**Enroll in our Load Management Program and receive a free or discounted water heater.**
50 gallon A.O Smith Water Heater - Call For Pricing
80 gallon A.O. Smith Water Heater - Call For Pricing
To qualify for a free or discounted 50 gallon A.O. Smith water heater, you must meet the following requirements:
Be a member and receive electric service from Central Wisconsin Electric Cooperative.

Free water heaters are available for new construction or conversion from gas.

Rebates are available for replacement of electric water heaters.

Pick up the water heater at our office and install it within 30 days (we don't deliver or install them).

Agree to have a load management receiver installed on the new water heater and receive a $2 monthly credit. Click her for more information about the load management program.
If you'd like to purchase one elsewhere or would like a larger size you can still receive a rebate equivalent to the purchase price or our current price of 50 gallon heaters, whichever is lower.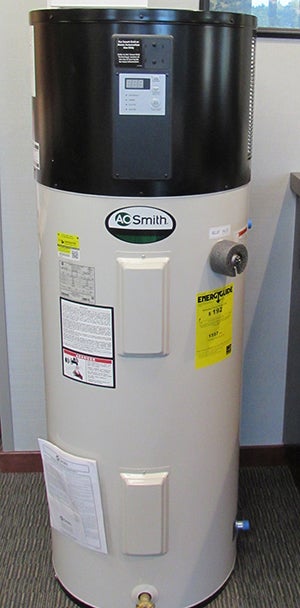 For most of us, heating water is the second largest energy expense we have in our homes (heating is number one). If you're looking to save money on your electric bill, the Voltex 50 Gallon Heat Pump Water Heater from A.O. Smith is for you. The Voltex 50 functions by removing heat from the surrounding air in your home and using it to heat water inside the tank. As a side benefit, it also serves as a dehumidifier. 
We're pleased to announce we will be offering these energy saving systems for sale. The A.O. Smith Heat Pump Water Heaters come Energy Star rated and are designed to save you 50% or more on your water heating costs. Qualifies for a $250 co-op member rebate, these units will pay for themselves in approximately four years and give you an estimated return on your investment of 30%. Please call for pricing.
Stop by and see a demo model in our lobby.